OutReach LGBTQ+ Community Center 50th Anniversary Celebration 
November 4 @ 5:00 pm

-

8:00 pm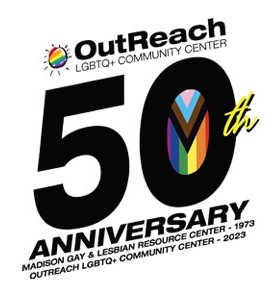 OutReach LGBTQ+ Community Center 50th Anniversary Celebration 
Local LGBTQ+ Center Celebrates 50 years representing and supporting the community! 
Madison, WI – 10/19/2023 – Join OutReach LGBTQ+ Community Center at the Monona Terrace on Saturday, November 4th for an unforgettable evening! 
We're excited to commemorate five decades of supporting and empowering the LGBTQ+ community. Cocktails at 5pm, dinner at 6pm, and a program from 7 to 8pm with entertainment, music, and storytelling. 
The program will feature Keynote Speaker: Shiva Bidar-Sielaff, MA – Vice President and Chief Diversity Officer at UW Health. 
It will also feature emcee Amethyst Von Trollenberg and music from Terry Watters on piano, singer Skye Gia Garcia, Perfect Harmony Chorus and Willma Flynn-Stone and The Quarry Boys. 
_______ 
Reservations for the event should be received by Tuesday, October 31st, 2023. Tickets can be purchased by visiting www.outreachmadisonlgbt.org/dinnertickets. General Admission is $75, Limited Income is $40. Sliding scale or scholarship tickets are also available by contact Mack at (608) 255-8582 (M-F, Noon to 3pm). 
Note: Contact Mack at the above number to arrange for children's meals.